Jones Beach Airshow at
American Airpower Museum
Republic Airport, Farmingdale, NY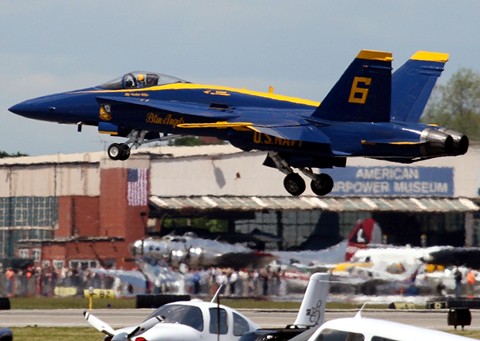 The Jones Beach Airshow is held at a state park on Long Island. You pay $8 per vehicle and get to enjoy the show and a day at the beach, or a walk on the boardwalk. It's a great family venue which we will cover on our Airshow Traveler website.
Aircraft participating in the show, however, do not take off and land at the beach. They are staged at Republic Airport in Farmingdale, NY.
You can pick a spot around the airport and get some good photos of aircraft departing and returning to Republic. Or you can pay admission to the American Airpower Museum to get up close and personal with the planes and pilots.
We highly recommend this second option. It's worth it and you can take in the sights of the museum as a bonus.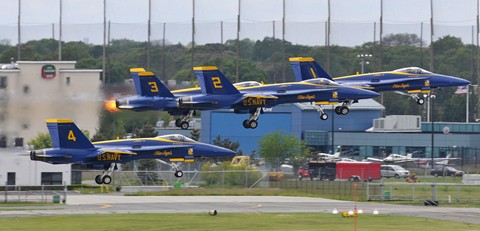 You not only get to see the warbirds and aerobatic planes at American Airpower, but you get to see the jet teams takeoff and land, like the Blue Angels.
Photo by Patrick O'Toole.

Or you can watch the Golden Knights board their Fokker C-31A Friendship (85-1607) jump plane.
Photo by Patrick O'Toole.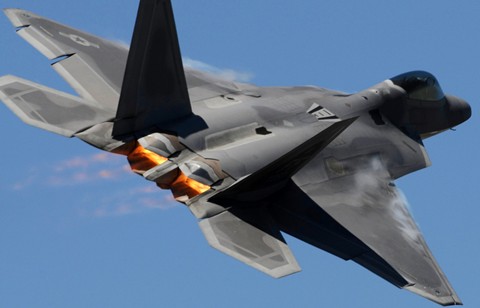 Or you can catch a flyby of an Air Force front line fighter like the F-22A Raptor (03-4061). Piloting this aircraft is Paul 'Max' Moga who has since retired from the Air Force and is now hosting the Military Channel show, Great Planes.
Because of security concerns, the Raptor was not kept at Republic, but at nearby MacArthur Airport, Islip, NY. Still, there are so many aviation fans at Republic, the Air Force felt obligated to entertain the appreciative fans here.
Photo by Patrick O'Toole.

The Geico Skytypers are based at Republic Airport, so naturally you get a special six-ship delta flyby as they return from the Jones Beach Airshow.
Photo by Patrick O'Toole.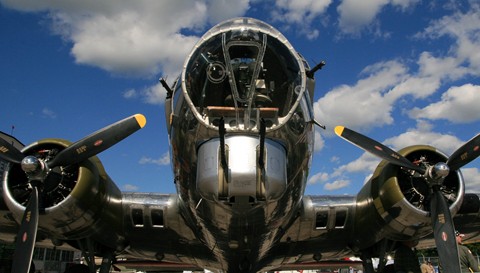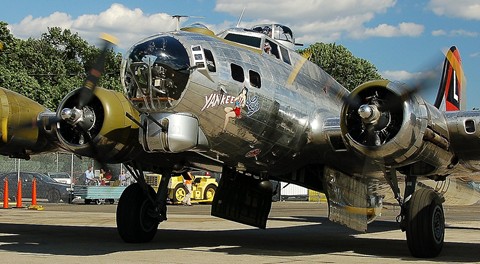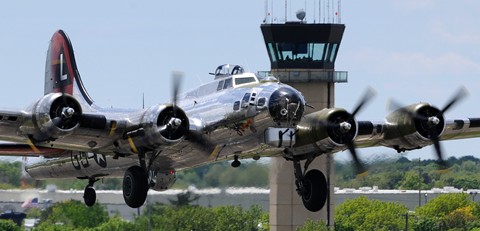 Of course, if warbirds are your thing, you will not be disappointed. You not only get to see American Airpower's flock of warbirds and those from Warbirds Over Long Island, you get to see other classics like the B-17G Flying Fortress 'Yankee Lady' (44-85829, N3193G).
Yankee Lady is owned by the Yankee Air Museum in Ypsilanti, MI. Rides can be purchased on this beautiful bomber. It is highly recommended that you purchase tickets in advance.
Bottom two photos by Patrick O'Toole.
---
Navigation Index



Return to the top of this Jones Beach Airshow page.
American Airpower Museum
American Airpower Museum Aircraft
Collings Aircraft Visit American Airpower
Warbirds Over Long Island Visit American Airpower
Home Page