Aircraft Squadrons
Our dear friend Horace Sagnor collects patches of aircraft squadrons. The photo below is a very small sampling of his collection, for he has several hundred.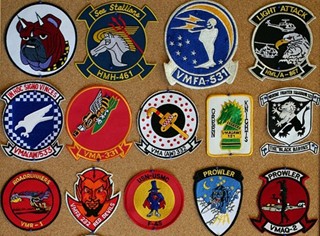 Horace not only collects the patches, his brain is filled with the knowledge of squadron histories. We thought it would be a good idea to tap into that knowledge and combine it with our own research to present a section on our webite dedicated to the history of Air Force, Navy, and Marine squadrons.

We also delve into the history of the patch. Take a look at the photo below of the US Navy patch for VFA-31, the Tomcatters, that currently flies the F/A-18E Super Hornet out of NAS Oceana, VA.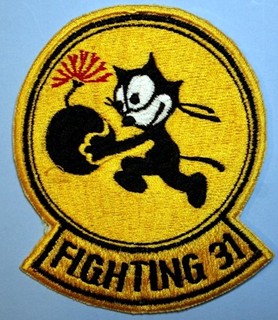 Do you recognize the character? Of course, it's the cartoon feline, Felix the Cat, which was adopted by US Naval squadron VB-21B in the late 1920s. Though that squadron no longer exists, the Felix the Cat mascot lives on with VFA-31.

Many patch artworks were developed by cartoon illustrators including some Disney illustrators as you will see in our coverage of squadron histories.



Click here to move from our Aircraft Squadrons page back to our home page.