VMA-131, the Diamondbacks
VMA-131 (Marine Attack Squadron 131), the Diamondbacks, brings back memories of a Sunday afternoon when I would pack up the family and head for the parking lot just outside NAS Willow Grove, PA. This was, of course, long before 9/11. Can't park there any more.
On Marine Reserve weekends you could watch the squadron's A-4 Skyhawks take to the skies. I wish I knew more about the outfit.
History of the squadron is sketchy. They can be traced back to March 1919 as 1st Air Squadron, but I don't know which plane they flew. They supposedly flew the following aircraft up through World War II:
O3U-6 Corsair
Great Lakes BG (1939-41)
SB2U-3 Vindicator
SBD Dauntless
TBM Avenger

I've seen a photo of the squadron posing in front of an Avenger in World War II when they were known as VMSB-131 (see patch to the left). There are too many snippets of information with no real history timeline.
Here is what I know.
Brief Facts
VMA-131 was an A-4 Skyhawk attack squadron in the United States Marine Corps from 1960-1998. They were part of the Marine Forces Reserve and were based at NAS Floyd Bennett Field in Brooklyn, New York from 1960 through 1972. From 1972 until their deactivation in 1998, they were based at NASJRB Willow Grove.
In the 1960s, they flew the A-4B, A-4C, and TA-4F Skyhawks. During the 1970s, they flew the A-4E Skyhawk.
The last two Skyhawk models they flew were the A-4F, and finally, the A-4M. Photo below of A-4M Skyhawk (160024) taken by Horace Sagnor in August 1994.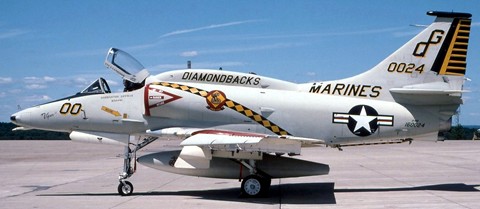 On January 12, 1990 a Diamondbacks' A-4M Skyhawk crashed on approach to NAS Willow Grove, coming down in Upper Moreland Township, impacting in an intersection, with debris tearing off the roof of an auto-leasing business, destroying four cars and damaging six houses with no injuries on the ground. The pilot parachuted into trees nearby suffering only minor injuries.
On June 22,1994 the squadron officially retired its last A-4M aircraft. Four pilots flew a short flight that included a flyby over the field.


---
Top of this VMA-131 page
Return to our Aircraft Squadrons page
Return to our Home page