USS Midway (CV-41) Museum

The aircraft carrier USS Midway (CV-41) museum is located in sunny, warm, San Diego, California. Unfortunately for us, it was overcast and quite chilly when we visited.

If you want to skip ahead to the aircraft on the Midway, click anywhere here.

And if you want to skip ahead to the history CV-41, click anywhere here.

The USS Midway museum is located approximately 2 miles from San Diego's Lindbergh Airport, and is situated along the beautiful harbor waterfront. Photo above is courtesy of Andrew Theken.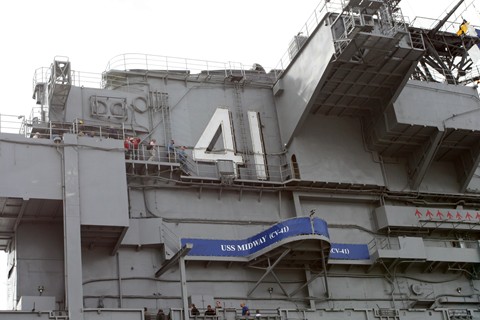 If you park on the street as we did, be sure you have lots of quarters because you'll have to feed the parking meters. It cost us $3.00 for 3 hours (I went to 3 places before I found a change machine).
What we didn't realize was, there is a parking lot adjacent to the carrier. This lot cost $5.00 for all day. So if you want to spend the day and soak in the waterfront, park in the lot.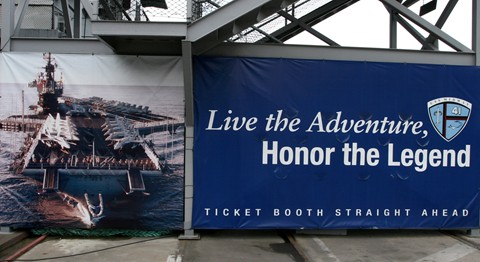 Admission to the USS Midway museum is $17 for adults, $13 for seniors and students with valid ID, $10 for retired military with valid ID, and $9 for youth age 6-17. If you are on active duty in uniform, admission is free, as is children 5 and under.
The museum is open 7 days a week from 10am to 5pm, with the ticket booth closing at 4pm. They are closed on Thanksgiving and Christmas. It is located at 910 N. Harbor Drive at the Navy Pier. Their phone number is (619)544-9600 and their website is www.midway.org.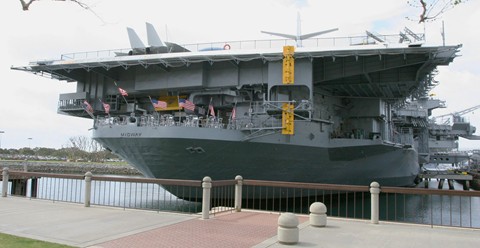 There are several ways to tour the ship's 4 decks. You can take a guided tour with one of the many knowledgeable staff, which takes about 2-1/2 hours. If you want to do the guided tour in less time, they have an express tour that takes approximately 1-1/2 hours.
You can also take your own self-guided tour. If you take you own tour, there is the option of renting an ipod that provides supplemental audio as you tour the ship.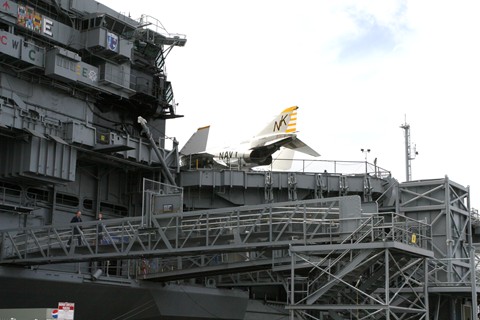 The decks you visit are the hangar deck, the second deck, sick bay on the lowest level, and of course the flight deck. You can also go up into the superstructure (bridge & flight control).


---
Navigation Index:


Top of this USS Midway Museum page.
Midway's History Page
Midway Museum's Aircraft Page
Aircraft Carriers Page
Aircraft Museums Page
Home Page