Dave Burdine Tribute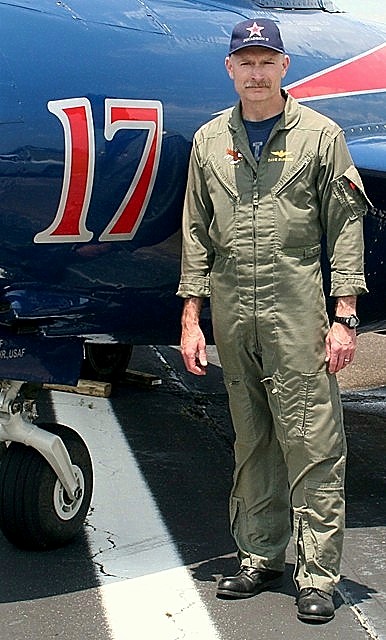 On September 3rd, 2007, air show pilot Dave Burdine was killed while flying as a passenger in a Yak-52 that had just taken off from Lake in the Hills Airport, IL. The pilot of the aircraft, Steven Hildebrand, was also killed. Hildebrand was a student of Dave's.
We met Dave at the 2006 Arnold AEDC air show in Tullahoma, TN. He spent an hour chatting it up with us. Could not have been nicer.
Dave loved to talk about his Mig-17F (1C1613, NX17YB) and his experience in the Navy as an F-14 Tomcat pilot. He explained to us that the markings of his Mig are a collage taken from many Migs that flew in Korea.
Dave began flying when he was 16. He was a Navy fighter pilot with combat experience over the skies of Iraq and graduated from the U.S. Naval Academy, went to Navy Flight School, finished first in his class and selected the F14 as his plane to fly.
After receiving specialized training in Soviet tactics, he was designated a Navy Adversary Instructor Pilot teaching military pilots how to engage and shoot down Migs like the one he flew in airshows.

Dave was selected to go to Top Gun and was also a Spin Instructor teaching other F-14 pilots how to recover control of their jet in a spin. He is one of few who has intentionally done a LOMCEVAK (the tumbling end over end that little biplanes do) in a jet. His last Navy assignment was as Commanding Officer of the Advanced Flight Training Squadron in Meridian, Mississippi.
When not performing at air shows, Dave enjoyed teaching others how to fly right side up and upside down in the Northwest skies of Chicago. One of Dave Burdine's students put it best:
" This is terrible. How very, very sad. My condolences to the families of both men. I was a student pilot of Dave Burdine's and flew with him over 40 times the last two years out of 3CK and Blue Skies Flight School.
He was so incredibly methodical, knowledgeable, precise, careful and disciplined it is hard for me to fathom and accept this has happened. It's surreal. Dave commanded an advanced flight squadron in Mississippi."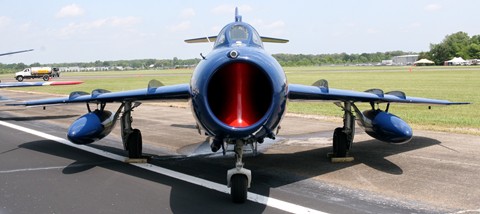 "He personally rebuilt his MiG-17 and was truly a master of the air. I wondered what compelled him to spend countless hours teaching naive, mistake-prone and overly-enthusiastic students like myself to fly in single prop 160 Hp Piper Warriors out of a small airport in Northern Illinois. During one of our training sessions, I found out.
We were cruising 3,200 feet above the prairie in a plain 'ole Warrior on a gorgeous, clear sunny day with minimal cloud cover, in silence, enjoying being aloft. Then, suddenly Dave said, abruptly, somewhat pensively, "I still am amazed we can do this." And he meant it.
After all his years of flying experience, after all the different planes he had flown in countless situations I can't even imagine, he was still enthralled with being able to fly through the air, albeit with a rookie pilot, in a non-descript, codgy old plane, above the featureless fields of Illinois. He simply loved to fly. "Let's go fly!", he would say to me emphatically to indicate pre-flight prep work was done. Indeed, Dave, let's go fly. "

We could not express our feelings for Dave any better. And now he flies with angels.



Return to the top of this Dave Burdine Tribute page.
Return to our Home Page.