Aircraft Carriers
Aircraft carriers took on importance in the US only after the Japanese attacked Pearl Harbor on December 7, 1941. Up until that time, most naval brass believed that the battleship was the most important ship in the naval arsenal.
When World War II began, the US had 6 active carriers. Today there are 11 of these beautiful ships in the US with one more under construction. With the decommissioning of the USS John F. Kennedy (CV-67), all are nuclear powered.
If you want to visit these floating cities, you do not have to wait for one to sail into town during fleet week. There are currently five of these floating museums open for visitation with hopefully more on the way as mentioned below.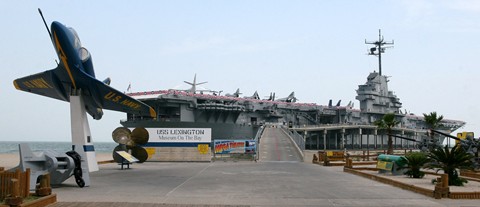 Pictured in the two photos above is the USS Lexington (CV-16) which is moored in Corpus Christi, TX. You may want to jump right to photos of the USS Lexington aircraft at this point.
Besides the 'Lex' there is also the USS Midway (CVB-41) in San Diego, the USS Intrepid (CV-11) in New York Harbor, the USS Yorktown (CV-10) anchored in Charleston, SC, and the USS Hornet (CV-12) museum based in Alameda, CA.

Interestingly, three floating airfields are awaiting homes to be put on display as museums. They are the USS Saratoga (CV-60), the aforementioned John F. Kennedy, and the USS Ranger (CV-61).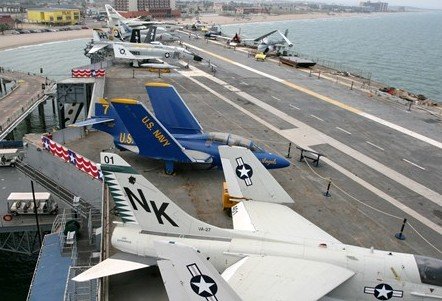 Aircraft carriers are great places to visit and offer more than the aircraft on display such as those on the deck of the USS Lexington shown above. You can venture deep into the bowels of the ship to see everything from the dentist facilities to the crew quarters as shown below.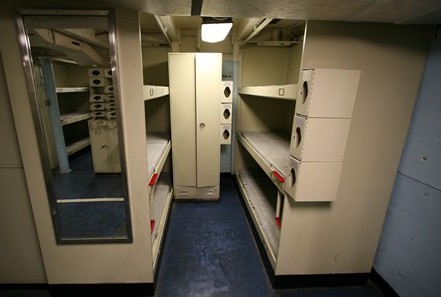 You can also get a sense of flight operations without actually seeing an aircraft take off. As seen below, an F-14 Tomcat is in launch position on the catapult.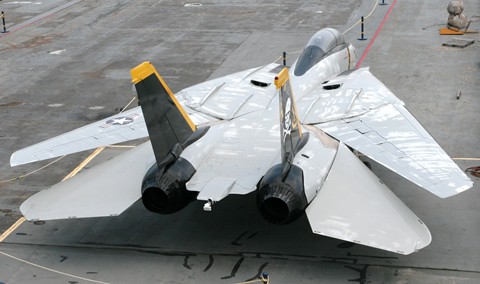 ---
Navigation Index:



Top of Aircraft Carriers page.
USS Lexington Museum
USS Midway Museum
Aircraft Museums
Home Page