VA-85, the Black Falcons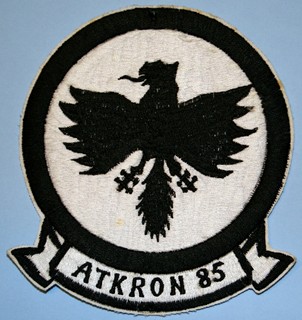 VA-85 was assigned to two Navy squadrons. The first one was short lived so we will deal with the second version which has nothing to do with the first one.
The second Attack Squadron 85 started out as the 859th reserve squadron on February 1,1951, flying the Grumman TBM-3E Avenger. It was redesignated as VA-85 on February 4, 1953 and disestablished on September 30, 1994.
Its first patch was a woodpecker wearing a life vest, astride a rocket, and carrying a bomb in his hand. The second patch was a winged bomb. On May 7, 1958 the CNO (Chief of Naval Operations) approved the Black Falcon patch that you see pictured above.
From its inception, the Black Falcons has flown two military aircraft. Three different models of the Douglas Skyraider were flown from March 1951 to March 1964.
The photo below shows a A-1H Skyraider from the Black Falcons awaiting launch off of the USS Forrestal (CVA-59). All of the squadron's deployments were off the Forrestal.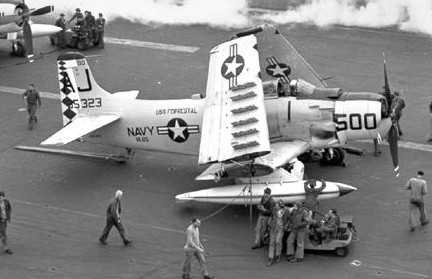 Its second aircraft was the A-6 Intruder which included the A-6A, KA-6D aerial tanker, and A-6E. The photo below shows an A-6E (158793) CO's (Commanding Officer's) plane.
Photo taken at NAS Oceana in April 1979 by Horace Sagnor.

The squadron flew in Vietnam, Operation Desert Storm, Somalia, Bosnia-Hercegovina, and provided support for recon missions over southern Iraq as part of Operation Southern Watch.
While flying the A-6, the Black Falcons had 30 different Commanding Officers. Some were killed in combat, one was killed in a non-combat crash, and one was a POW during the Vietnam War.
The most distinguished officer of VA-85 was a bombardier/navigator, Lieutenant (jg) Brian E. Westin. During a combat mission over North Vietnam in April 1966, Westin's pilot, Lieutenant W. R. Westerman, was seriously wounded.
Westin helped Westerman pilot the aircraft over open water in hopes of being rescued. He made sure his pilot ejected safely before ejecting himself from the damaged aircraft.
First to be picked up was Westin who directed the rescue helicopter to his downed pilot. When they spotted Westerman, they also spotted a shark near the bleeding pilot. Noticing that his pilot could not get into the sling, Westin dove in to help his comrade.
When it came time to retrieve Westin, the hoist malfunctioned. He waved off the helicopter so his pilot could get urgent medical attention, and waited in shark infested waters until a second helicopter arrived.
For his bravery, Westin was awarded the Navy Cross.


Navigation Index
Return to the top of this VA-85 page.
Return to our Aircraft Squadrons page
Return to our Home Page