Air Force Armament Museum
The Air Force Armament Museum (AFAM) is located outside Eglin AFB, Florida. To quote the AFAM brochure, 'the only museum in the world dedicated to the collection, preservation and exhibition of artifacts and memorabilia associated with Air Force Armament and its platform of delivery.'
Both photos directly below by Horace Sagnor.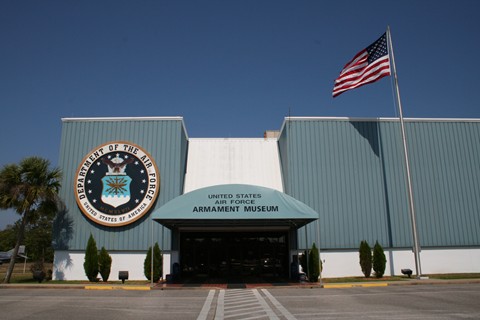 Admission to the museum is free, with operating hours from 9:30AM to 4:30PM, Central time. They are closed on Sundays and federal holidays.
They have 29 different aircraft on site, with 4 housed inside the museum, and the remainder located outside. All the aircraft are well cared for thanks to the efforts of the volunteer staff.
This place is a real gem with some of our favorite aircraft, including the SR-71 Blackbird, F-86, B-52, B-47, B-17, B-25, and two different F-4 Phantoms just to name a few.
For more on the aircraft at the museum, go to our AFAM Aircraft page.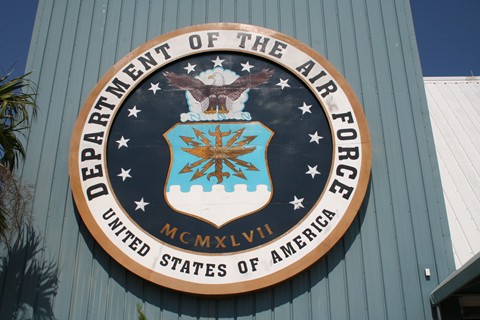 Besides the four aircraft mentioned above, there is obviously a lot of ordinance inside the museum, including a wide variety of missiles, bombs, and rockets. Of particular interest is the world's largest conventional weapon - the MOAB, Massive Ordinance Air Blast, or as it often referred to, the Mother Of All Bombs.
There is also a gun vault that contains a 1903 Springfield rifle. The theater runs a 32 minute movie called, 'Arming the Air Force', about the history of Eglin AFB.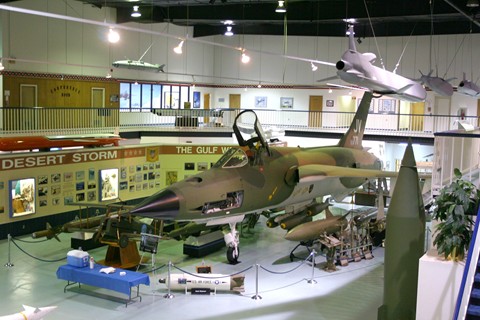 At one time the museum used convicts from the Eglin AFB brig to help restore and maintain their aircraft, but this is no longer the case since 9/11. To help with the current workload, one of the volunteers, George, initiated a program called 'Adopt a Plane' whereby Eglin servicemen and local civic groups are encouraged to adopt one of the museum's aircraft and help maintain that particular aircraft. We think this is a great idea.
There is a gift shop in the museum that is so reasonably priced that I bought four t-shirts. And the people that run it are as friendly as can be.
My only complaint, and it is a small one, is the lack of model numbers for the aircraft. For instance, I would like to know that the F-4 on display is an F-4D. That being said, it would certainly not keep from visiting again. For more information, check out the

Air Force Armament Museum online.
---
Navigation Index:
Return to the top of this Air Force Armament Museum page.
AFAM Aircraft Page
Return to our Home Page.
Go to our Aircraft Museums page.