USS Midway History
The USS Midway history begins on October 27, 1943 at Newport News Shipbuilding, VA, where her keel was laid. She is the lead ship in her class, meaning she is a Midway class aircraft carrier.
She was commissioned on September 10, 1945. The photo below was taken in 1945 after her commissioning. Notice the straight flight deck.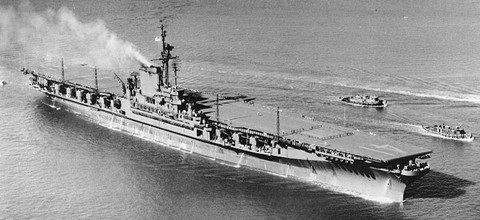 In order to make the Midway capable of landing and launching jet aircraft, she was overhauled at the Puget Sound Shipyard from June 1955 until September 1957, during which time she was obviously out of commission. CV-41 would now have an angled flight deck and steam catapults. See photo below taken by the US Navy in 1963.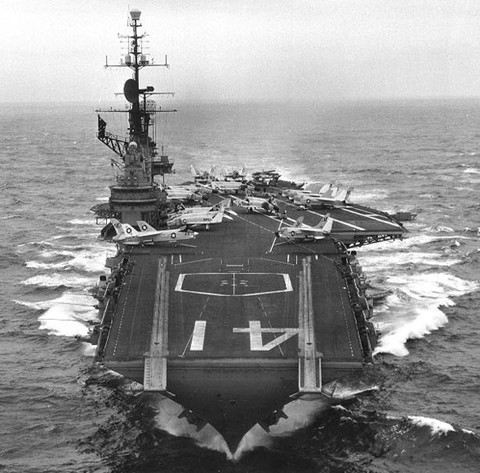 Another very expensive and controversial modernization ensued from 1966 until 1971 that increased the size of her deck from 2.8 acres to 4 acres. She was also given new elevators and a centralized air conditioning system.
Because of the cost overrun from the original $88 million to the actual $202 million, there was not enough left in the military budget to upgrade her sister ship, the USS Franklin D. Roosevelt (CV-42). The FDR would suffer an early retirement in 1977 in very bad shape.
Although her last major overhaul gave the Midway the capability to serve as a platform for more modern jets, the modifications performed on her made the ship difficult to handle air operations in rough seas. This lead to more modifications.
Though she did not participate in World War II, the Midway would prove her medal later in Vietnam where her pilots were credited with the first four air-to-air kills of the war, and the last of the war. Quite an accomplishment.
Since we are such F-4 Phantom lovers, we have to mention the event of March 25, 1986. Lt. Alan S. 'Mullet' Colegrove piloted an F-4S Phantom II off the deck of CV-41 and wrote a page of USS Midway history. It was the final carrier launching of a Phantom from a US Navy carrier.

The Midway would face combat conditions again when she became a vital part of Operation Desert Storm in the early 1990s. When the Gulf War was over, the vessel returned to her home port of Yokusuka, Japan, and then onto Pearl Harbor.
Her final cruise was from Hawaii to San Diego where she was decommissioned on April 11, 1992. In January 2004 she was moved to her final mooring at the Broadway Pier in San Diego where she lives on as a floating museum wrought with history.



To navigate back to our home page from the USS Midway History page, click anywhere here.

For a photo tour of the USS Midway museum's aircraft, click here.

For our USS Midway museum page, click here.