USS Lexington History (CV-16)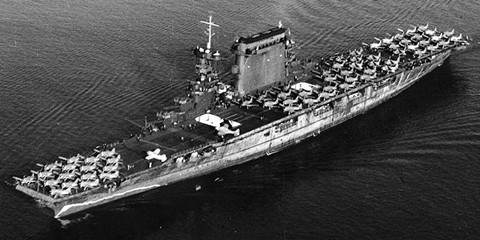 The CV-16 USS Lexington history lesson begins at Bethlehem Steel in Quincy, MA., on July 15, 1941. This Essex class carrier, known as the "Blue Ghost", was originally named the USS Cabot. It was renamed the Lexington after the loss of the first USS Lexington (CV-2) in the Battle of the Coral Sea. See photo of CV-2 above, circa 1941 (courtesy of US Navy).
CV-16 was commissioned on February 17, 1943 under the command of Captain Felix Budwell Stump. The photo below of the new Lex is circa 1958 and is courtesy of the US Navy.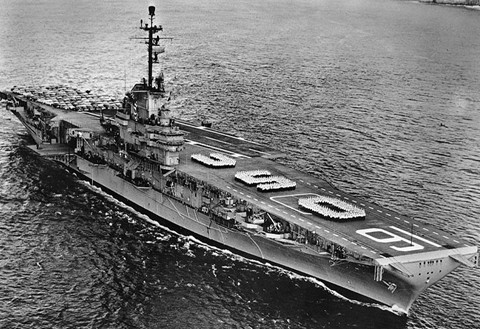 The Lex, as she was affectionately called, played a significant role in World War II. She sailed to raid Kwajalein on December 4, 1943, destroying a cargo ship, 30 enemy aircraft, and damaging two cruisers. Later that night, Japanese parachute flares surrounded her, and she was hit by a torpedo on the starboard side, knocking out the steering gear.
Damage control crews welded the damaged compartments shut, using heavy steel plates. An emergency hand-operated steering unit was used as she headed for Bremerton Washington on December 22 for full repairs.
Japanese propaganda loved to rewrite the USS Lexington history. They said the Lex was sunk from that 1943 torpedo hit. She was reported sunk a second time in April of 1944, and a third time in June of 1944. Yet, the Blue Ghost remained afloat after fighting off a fierce attack by fighter planes based on Guam.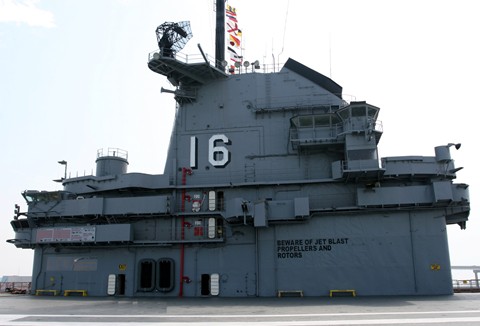 During the Battle of the Philippine Sea, the USS Lexington saw a great victory with 300 enemy aircraft destroyed the first day. A carrier, a tanker, and a destroyer were destroyed on the second day. Japanese naval aviators were in such disarray, they tried to land on the Lexington only to be shot down by its gun crews.
She endured a close call on November 5, 1944 when a flaming Japanese kamikaze plane crashed into her island, destroying most of the structure and spraying fire in all directions. The spot where the kamikaze hit is designated by the Japanese flag in the photo below. Within 20 minutes, the fire was under control and normal flight actions continued. Once again, Tokyo declared her destroyed even though casualties were light.
As the war drew to a close, she continued to launch precautionary patrols over Japan, and dropped supplies to prisoner of war camps on Honshu. She left Tokyo Bay on December 3, 1945 and arrived in San Francisco on December 16. The USS Lexington was decommissioned at Bremerton, WA in April of 1947 and entered the Reserve Fleet there.
She was designated attack carrier CVA-16 on October 1, 1952 and began conversion and modernization in September 1953, receiving the new angled flight deck.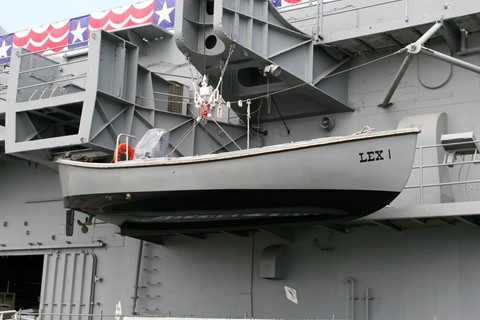 She was recommissioned on August 15, 1955 and was assigned San Diego as her home port. The Lex had several cruises with the 7th Fleet and underwent several overhauls before being ordered to replace the Antietam (CVS-36) as an aviation training carrier in 1962. Although her new designation was CVS-16, she resumed duty as an attack carrier during the Cuban Missile Crisis.
The Lexington operated out of her new home port, Pensacola, as well as Corpus Christi, and New Orleans well into the 1960s, qualifying student aviators and maintaining the high level of training for active duty and reserve officers. Her training became highly significant as she prepared men vital to the operations in Vietnam. She marked her 200,000th arrested landing on October 17, 1967, and was redesignated CVT-16 on January 1, 1969.
She continued as a training carrier for the next 22 years until she was decommissioned on November 8, 1991. On June 15, 1992, the ship was donated as a museum. Please visit this great living museum and discover more of the USS Lexington history.



You can visit the USS Lexington museum website here.

From this USS Lexington History page, you can return to our home page here.

You can return from this USS Lexington History page to the Lexington Museum page here.